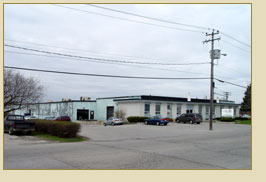 Lehmann Bookbinding's roots go back to 1913, when master binder J. C. Lehmann immigrated to Canada from Germany. Settling in Kitchener, he founded the family business and was immediately welcomed for his high level of skill and craftsmanship in a very specialized field. From those humble beginnings, Lehmann Bookbinding has grown through four generations to become Canada's largest bindery serving the Library community from Newfoundland to British Columbia to Nunavut.
Today, as in 1913, we pride ourselves on our dedication to quality, customer satisfaction and the strong relationships we have built with our clients over the years. Our fifty-plus employees share our family's commitment and have been instrumental in the growth and success of the company as we have, over the last decade, expanded our business to include extensive Trade & On-demand services for the printing industry.

We are a founding partner, and the only Canadian member, of ABLE Ventures, an organization dedicated to the development of the ABLE Order Entry Software System. We are also a certified member of the Library Binding Institute.
From restoration of a single book to trade binding of many thousands, customers around the corner and across the country rely on Lehmann for exceptional service on every job.